Fillings
Still have mercury fillings? Mercury fillings are not pleasing to the eye, and unfortunately, mercury fillings result in a weaker tooth structure. Bonnie Helfner DDS in Commack is a mercury-free practice that specializes in porcelain inlays and tooth color restoration. With restorative dentistry, these restoration techniques are not only aesthetically pleasing, and make your teeth more beautiful, but they are stronger, resulting in a more sturdy tooth structure.
Disadvantages of Silver fillings
The drawbacks of silver fillings? The edges of the filling can wear down, become weak, or even break. This results in the tooth becoming unprotected. This can eventually lead to cavities. Silver fillings also contain 50% mercury, which can lead to corrosion of the tooth, and stain your teeth. The good news? With the tooth-colored restoration process that we offer in Commack, we can replace those silver fillings you may have.
Advantages of Tooth-Colored Restorations
Tooth-Colored Restoration offers many advantages. Dr. Helfner and Dr.Curro in Commack use resin onlays that are bonded to the teeth, creating a perfect, tight fit. Resin contains fluoride which helps the tooth remain intact and safe from decay. The result of the Tooth-Colored Restoration? A beautiful smile. Dr. Helfner and Dr. Curro work hard and diligently with each one of their patents in Commack to make sure that they receive the result that is desired.
The result is a beautiful smile!

Crowns
Our goal is to make your teeth appear as though they do not have crowns or fillings. How do we do this? By replacing your existing crowns with our porcelain Tooth Colored Restorations. Damage to your teeth? Not a problem. We can correct it by using porcelain or "pasted on gold" which can last up to 30 years.
These treatments have received exceptional reviews and resulted in outstanding reviews on our work. At Bonnie Helfner DDS we take pride in the work that we do. We work hard to please our patients that come in from all over Suffolk County.
How long does it take to fit a dental crown?
Fitting crowns usually takes two visits. The first day, we will remove decay, shape the tooth and place a temporary crown on it. At the second visit, we will remove the temporary crown and replace it with your new, custom made, porcelain crown.
What are the key benefits of Dental Crowns:
Replaces missing teeth.
Offers support to misshapen teeth or badly broken teeth.
Looks completely natural.
Fixes "smile" and functional chewing problems.
Most importantly; it restores your self confidence with a brand new smile.
Of all the ways modern dentistry has to replace missing teeth, dental implants are by far the best. There is no tooth-replacement option that will give you a longer-lasting result. Implants also help preserve tooth-supporting bone that naturally deteriorates when a tooth is lost. Loss of bone is one of the major hidden consequences of losing teeth.

What are dental implants?
Dental implants are small titanium posts that replace the roots of missing teeth (View Example). They are inserted into your jawbone during a minor surgical procedure that takes place in the dental office. After the implant has been placed in your jawbone, a completely lifelike porcelain tooth crown is attached. In some cases, the implant needs to fuse with the bone for several months before it is permanently crowned; in other cases, you can have new (but temporary) teeth the same day your implants are placed.
How Implants Work
During a minor surgical procedure, your dental implant is inserted directly into the jawbone in the space vacated by the missing tooth. It will then be left to heal for a period of months before the final crown is attached. During this healing period, the implant actually fuses to the bone surrounding it.
How long do dental implants last?
That's one of the chief benefits of dental implants: they are permanent!
Dental implants make it possible for people who have lost teeth due to decay, gum disease, injury, congenital defects, and other reasons to acquire permanent, natural-looking replacement teeth. Missing teeth can not only make many people self-conscious when smiling or talking, they can also affect chewing and speaking. Dr. Helfner and Dr. Curro have helped many people across Suffolk County and from the Commack and Dix Hills area regain their confidence with their smile.

Bridges
All of your teeth play an important role in speaking, chewing and in maintaining proper alignment. Tooth loss can occur at any time and is not just associated with age. If you do lose teeth, then it is important that they are replaced to maintain the proper function of your mouth. Fortunately, Dr. Helfner and Dr. Curro can help correct your tooth loss at their Commack location.
Dental Bridge Options
A bridge is a device used to replace missing teeth. It attaches artificial teeth to adjacent natural teeth, called abutment teeth. Bridges are either permanently attached (fixed bridges), or they can be removable.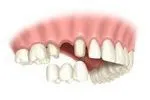 Fixed bridges will be applied by placing crowns on the abutment teeth or by bonding the artificial teeth onto the abutment teeth. Removable bridges will be attached to the teeth with the use of metal clasps or precision attachments.
If you happen to be missing one or more teeth, you will become aware of their importance to your appearance as well as to your dental health. Your teeth work together for a variety of functions that range from eating to speaking. If you have missing teeth, it can become difficult to perform these functions. Missing teeth should be replaced as soon as possible. One of the best ways to restore your dental health and appearance is through the use of fixed bridges.
What exactly is a bridge or fixed partial denture?
A bridge (fixed partial denture) is a device which consumes the gap in which the teeth are absent. A fixed bridge will be bonded into place and will only be able to be removed by a dental professional. A removable bridge can be taken out and cleaned regularly, opposed to a fixed bridge, which offers more stability than removable bridges.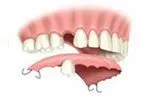 Why do I need a bridge?
It is important to wear a bridge for oral functionality, as well as for appearance. A bridge will help support your lips and cheeks. Some people appear to have a sunken-in appearance. That's a result of tooth and bone loss and it can take years off a person's appearance.
Above all, dental health is the most important reason for a bridge. Each tooth was designed to complement each other. If there are unusual stresses placed on the gums and other oral tissues when teeth are missing, it can cause a number of potentially harmful disorders to emerge.
A bridge can decrease the risk of gum disease which has proven to be one of the worst side effects of missing teeth.
Missing teeth can cause various speech disorders. Our teeth are used to make many of the sounds we use to speak clearly. Dr. Helfner and Dr. Curro will use their years of expertise to make sure that you do not suffer from tooth and bone loss.
How is a bridge attached?
It usually takes two or three appointments to complete the attachment procedure. The first appointment is when Dr. Helfner and Dr. Curro will prepare them on either side of the gap by removing a fragment of the enamel and dentin.
The bridge must then be fabricated precisely to ensure the correct bite and to match the opposing tooth. In order to do this, impressions of the teeth will be taken and sent to the lab so that a bridge can be constructed.
A fixed bridge will most likely be cemented to the natural teeth next to the space that is left by the missing tooth. A false tooth, or pontic, replaces the lost tooth. Crowns will then be cemented onto the natural teeth as a way to provide support for the bridge.
What materials are used?
Bridges can be constructed from various materials. The materials that Dr. Helfner and Dr. Curro use are gold alloys, non-precious alloys, porcelain, or a combination of these materials. If porcelain is used it will most likely be bonded to either precious or non-precious metals.
How do I take care of my bridge?
It is important to follow a strict regimen of brushing and flossing that will keep the bridge and surrounding teeth clean. This is critical because the bridge relies on the neighboring teeth for support so it is important to keep them healthy.
Dr. Helfner and Dr. Curro will show you how to effectively take care of your bridge.
Dentures
Dr. Helfner and Dr. Curro have helped many people from Nassau and Suffolk Counties as well as in the Commack and Dix Hills area regain the smile that they want with dentures. Though dentures seem to have a negative connotation attached to them, Dr. Helfner and Dr. Curro make sure that you receive the smile that you want.
A denture is an appliance that is inserted into the mouth. It replaces natural teeth and provides support for the cheeks and lips.
Most dentures are made of acrylic and can be fabricated two different ways.
A conventional denture is made after all teeth have been extracted and the tissues (gums) have healed.
An immediate denture is fabricated and inserted immediately after the teeth are extracted and the tissues are allowed to heal under the denture.
An upper denture has acrylic, usually flesh colored, that covers the palate (roof of the mouth).
A lower denture is shaped like a horseshoe to leave room for the tongue.
The teeth are made of plastic or porcelain. Dentures can be made to fit over endodontically treated teeth and a complete denture may be bonded to dental implants to allow for a more secure fit of the appliance.
Dentures over time will wear away from use and will need to be either reconstructed or realigned to keep them attached to the jaw. The alignment slowly changes due to the bone and gum ridges receding or shrinking due to tooth extraction. Regular dental examinations are still important for the denture wearer to ensure the dentures fit properly and no diseases are beginning to form.