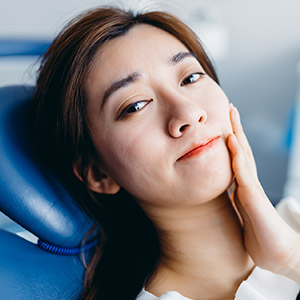 For one out of three Americans, a bite of ice cream or a sip of hot coffee can set off a sudden jolt of pain. Fortunately, there are ways to reduce these painful episodes of tooth sensitivity and their severity.
To understand the primary reasons that people experience tooth sensitivity, we must first consider a little tooth anatomy. Just below a tooth's outer enamel is a layer of tooth structure called dentin, composed of tiny tunnels or tubules that transmit sensations of temperature or pressure to the nerves in the central pulp. These tubules are analogous to conduits through which electrical wires pass.
Enamel on the crown, along with gum tissue and a thin material called cementum covering the roots, help muffle sensations so as to prevent an overload on the nerves. But if either of those protective areas become compromised the nerves could in turn experience the full brunt of these sensations.
As such, softened and eroded enamel from tooth decay could expose the dentin. Receding gums, commonly caused by gum disease, can also expose dentin near the roots since the remaining cementum offers little protection. In either case, nerves in the pulp may become subject to extreme sensations caused by temperature or while biting down, which then causes them to fire off pain signals to the brain.
Thus, to treat sensitive teeth we must first determine whether it's the result of tooth decay, gum disease or some other condition, and then treat any underlying disease. If it's decay-related, we'll want to repair any cavities with a filling, or perform a root canal if the infection has spread deeper into the tooth.
For receded gums, we'll first want to treat any lingering gum disease. Once we've brought the infection under control, it's possible then for the gums to heal and regenerate, eventually treating the roots with desensitizing products. In some cases, though, we may have to surgically graft new tissue to the receded area to cover the roots.
The good news is that you can lower your chances of tooth sensitivity by preventing these dental diseases. To do that, be sure you're brushing and flossing daily to remove disease-causing plaque, and visiting your dentist at least twice a year for professional cleanings and checkups.
If you would like more information on tooth sensitivity, please contact us or schedule an appointment for a consultation. You can also learn more about this topic by reading the Dear Doctor magazine article "Treatment of Tooth Sensitivity."